10BaseT to V.35 Interface Converter
Orion Telecom Offers

Power Utility Solutions

Oil & Gas Networks Solutions

Railway & Metro Rail Solutions

PTP IEEE-1588v2

GPS Primary Reference Clock

Packet Optical Transport

Multiplexers

Teleprotection

SCADA, FOTE, OLTE

Digital Cross Connects

Echo Cancellers

IP/Ethernet over TDM

1+1 APS (Fail-Over) Solutions

Monitoring Groomer Solutions
Description
Orion Telecom Networks Inc. offers the 10BaseT to V.35 Interface Converter is a high performance Ethernet bridge which converts a 10Base-T Ethernet to V.35 interface. With a compact size and low cost, it is ideal for low cost Ethernet bridge applications over V.35 network.
It learns the MAC addresses in the linked LAN and keep them updating continuously.
10BaseT to V.35 Interface Converter
Up to 10,000 MAC addresses can reside in its LAN memory, which are updated automatically. The highest transmitting and filtering rate is 30,000 frames per second (line speed). The buffer is capable of storing 256 frames with a waiting throughput of one frame. When applied as a LAN extender, the bridge has two working status, filtering and not filtering.
The equipment shall be used and installed always in pair and work only in pair, one device at either end.
10BaseT to V.35 Interface Converter (PDF)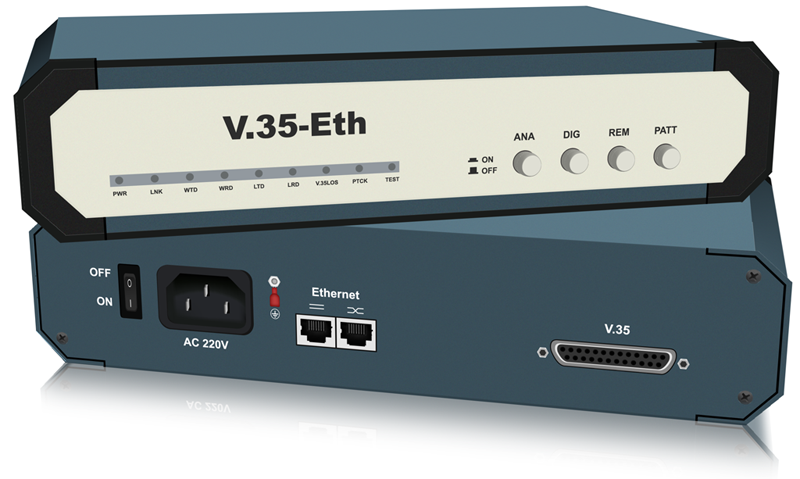 Features and Highlights
Conversion from 10Base-T Ethernet to V.35
User selectable V.35 data rate - N×64K (N=1 ~ 32)
Provides internal / loop-timed clocks modes for maximum flexibility
Configurable clock phase for the receiving clock
Self test and diagnostic modes
LED indicators to indicate alarms and operating status
DTE / DCE selection option for the interfacing equipment.
Application Diagram

---
Related Links: