VCL-3000, IEC-61850-3 compliantData Concentrator Unit (DCU)
Orion Telecom Offers

Power Utility Solutions

Oil & Gas Networks Solutions

Railway & Metro Rail Solutions

PTP IEEE-1588v2

GPS Primary Reference Clock

Packet Optical Transport

Multiplexers

Teleprotection

SCADA, FOTE, OLTE

Digital Cross Connects

Echo Cancellers

IP/Ethernet over TDM

1+1 APS (Fail-Over) Solutions

Monitoring Groomer Solutions
Description
The VCL-3000 is a compact, versatile IEC-61850-3 compliant Data Concentrator Unit (DCU) which may be used to build Automatic Meter Reading (AMR) and Advanced Metering Infrastructure (AMI) architectures to collect information and data from multiple meters and forward the data to the power utility.
The VCL-3000 can securely aggregate data from a manageable number of meters and relay the information to the centralized utility servers.
The VCL-3000 can be tailored to meet a very wide variety of concentrator requirements since it provides several forward (metering side) and backward (network side) communication interfaces.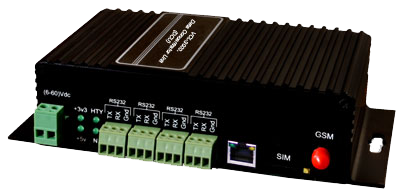 Specifications:
Configuration Interfaces:
| | |
| --- | --- |
| USB | USB 2.0 host x 1 (USB Type B) |
| LAN | 10/100 Mbps Port (RJ45) |
Network Communication Interfaces:
| | |
| --- | --- |
| Network - Wired | 10/100 Mbps Port (RJ45) |
| Network - Cellular | 2G/3G/4G |
Metering Side Interfaces:
| | |
| --- | --- |
| Wireless (short range) | ZigBee/LORA/WI-FI |
| Serial Port | 4 x RS-232/485/422 ports, Factory-selectable |
Time Synchronization:
| | |
| --- | --- |
| GNSS | GPS, GNSS (GPS plus GLONASS) |
| NTP | Network Time Protocol |
Storage:
Power:
| | |
| --- | --- |
| Input Voltage | 12VDC / 24VDC / 48VDC |
Additional Power Supply Options (DIN Rail):
| | |
| --- | --- |
| AC | 110VAC, 60HZ / 240VAC, 50Hz |
| DC | 110VDC, 220VDC |
Additional Power Supply Options (DIN Rail):
| | |
| --- | --- |
| AC | 110VAC, 60HZ / 240VAC, 50Hz |
| DC | 110VDC, 220VDC |
Environmental:
| | |
| --- | --- |
| Temperature | -40 to 85°C (-40 to 185°F) |
| Humidity | 95%. R.H. Non-condensing |
Chassis:
| | |
| --- | --- |
| Shielded. Aluminium. | DIN Rail Mounting |
---
Related Links: