Orion Telecom Offers

Power Utility Solutions

Oil & Gas Networks Solutions

Railway & Metro Rail Solutions

PTP IEEE-1588v2

GPS Primary Reference Clock

Packet Optical Transport

Multiplexers

Teleprotection

SCADA, FOTE, OLTE

Digital Cross Connects

Echo Cancellers

IP/Ethernet over TDM

1+1 APS (Fail-Over) Solutions

Monitoring Groomer Solutions
NTP Server - VCL-2156
Product Overview

Orion Telecom Networks Inc. offers VCL-2156 NTP SERVER is designed to provide NTP and ITU-T G.811 Primary Reference Clock that is locked to a GPS / GNSS reference to provide time synchronization to private networks such as Railways and Metro (ticketing and platform) networks, Airports and Air-Traffic Control facilities, Electric Sub-Stations, Power Distribution and Transmission companies, Oil and Gas Utilities, ISPs and Cable TV networks aswell as to Campus networks that are required to maintain a complete isolation from public networks for security reasons. It may be also used by 2G, 3G and LTE service providers which provide a time of day reference to their customers over their wireless networks.
VCL-2156 establishes a highly accurate phase-synchronized frequency and time base by synchronizing to the SPS (GNSS) satellites' atomic clocks to distribute synchronized time over packet based networks including Ethernet, Carrier Ethernet, IP and IP/MPLS Networks.
The VCL-2156 provides a wide range of GPS (GNSS) referenced frequency and time sources that include 2.048MHz, 1/5/10MHz, 1PPS frequency as well as an NMEA and NTPv4 time reference.
Features such as maintaining a distinctly separate IP address for system management and control, password based access, SSH as well as MD5 authentication ensures operational reliability and security. Additional features include remote login and remote firmware upgrade (file transfer) capabilities. The simplicity of installation and ease of management and reliable operation of the VCL-2156 NTP Server decreases the cost of network administration.
VCL-2156 includes complete SNMP monitoring as well as support for enterprise directory services for user authentication, internal and external logging and monitoring of alarm and error messages through Syslog and e-mail alert notifications ensures a high level of system manageability. Other features include DHCP for installation convenience and support concurrent IPv4/IPv6 support for future network upgradation.
A new Graphical User Network Management Interface (NMS) allows for easy monitoring and configuration changes in a network that require multiple installations for be monitored and managed from a single or multiple management locations.
Features and Highlights
High bandwidth NTP performance
Upto 5000 NTP requests per second
Multiple NTP Ports - 4 x independent 10/100 Mbit/s, RJ-45 Ethernet interfaces
ITU-T G.811 / Stratum 1 compliant (PR) Primary Reference when locked to GPS
ITU-T G.812 compliant holdover
Synchronization of NTP and SNTP clients
Battery backed RTC with up to one year of backup in power down mode
Leap Second Support
MD5 authentication for NTP clients
1 x IRIG-B Un-Modulated (BNC)
1 x IRIG-B Modulated (RJ45)
Meets and comply with Power Contact and Lightening Protection as per Telcordia GR-1089-CORE and EN61000-4-5 Level 4 specifications.
Alert notifications via SNMP Traps
Concurrent IPv6 and IPv4 operation
Supported networking protocols: IPv4,IPv6, SSH, TELNET, SCP, FTP, SYSLOG,SNMPv2 and TELNET
Secure network management: enable or disable options
Double Oven Quartz Oscillators (OCXO) hold-over
Stratum 1 when synchronized to GPS/GNSS, or Stratum 2 hold-over
DC, or AC, or 1+1 Redundant AC+DC Power Supply options.
Performance
VCL-2156 is designed to be deployed in concurrent IPv4 networks to provide NTP time and frequency synchronization.
The VCL-2156 has 4+1, 10/100 BaseT Industrial Ethernet Ports that meet and comply with "Power Contact and Lightening Protection" as per Telcordia GR-1089-CORE and EN61000-4-5 Level 4 specifications making it suitable for the equipment to be installed in harsh industrial environments which include Electric Sub-Stations, Railway andMetroNetworks.
VCL-2156 is powered by a high performance microprocessor and a highly precise GPS / GNSS receiver that provides a better than 30 nanosecond accuracy to assure high bandwidth NTP Performance of better than 5000NTPrequests per second.
Monitoring and Management
The configuration of the systemcan bemanaged by Graphical User Management Interface. Alternatively, a text based and menu driven setup utility can be started from the shell prompt after logging into the unit via Telnet or SSH. An optional Graphical User Network Management Interface (NMS) allows multiple systems installed on a networks to be monitored and configured from a single or multiple management locations.
Standards & Compliance
IEC - EMC – Certified to EN 55022: 2005 / CISPR 22, EN 55024:2005, IEC 61000-4-2
CE – 2001/95/EC, 2006/95/EC, EN60950-1, EN61000-6-2, EN61000-6-4
FCC – FCC Part 15 B Class A: Conducted Emission test on Power Line
FCC Part 15 B Class A: Radiated Emission >1 GHz FCC, 6 GHz, on Power Line
Technical Specifications
GPS Receiver Specifications:
50 Channel GPS Receiver
72 Channel GNSS Receiver
GPS L1 frequency, C/A Code Receiver
Tracks up to 12 satellites simultaneously
Synchronizing Time:

Acquisition time - Hot Start: Less than 15 sec.
Acquisition time - Warm Start: Less than 45 sec.
Acquisition time - Cold Start: Less than 140 sec.

GPS Signal

Tracking and Navigation: -162 dBm
Reacquisition -160 dBm
Cold Start -148 dBm

Antenna Connector: TNC
Accuracy Of Time-Pulse Signal referenced to GPS: +/-30ns (raw)
Accuracy Of Time-Pulse Signal referenced to GPS: +/-15ns (compensated)
(Note: with all satellites in view at -130db)
Local / Remote Management and Monitoring Ports:
RS-232C
USB
10/100BaseT Ethernet – RJ45
2 x External Alarm Relay Contacts.
Local / Remote System Access, Control and Management Options:
Telnet
Firmware upgrade
CLI Control Interface (HyperTerminal or VT100)
SNMP V2 Traps (MIB File provided)
Security and Protection:
Password Protection
SSH
SSL
Configuration and Monitoring Software:
Telnet, SSH, CLI
NMS - GUI (Graphical User Interface) - Runs on any PC operating on Windows 7, Windows 8 or Windows 10 OS.
Display
LCD-display with backlight
Network Time Protocol:
NTP v2, (RFC 1119), NTP v3 (RFC 1305), NTP v4, (RFC 5905), SNTP v3 (RFC 1769), SNTP v4 (RFP 2030), MD5 Authentication
Internet Protocol: IP v4, IP v6
Time Protocol: TIME (RFC 868)
Daytime Protocol: DAYTIME (RFC 867)
Power Supply Options:
Dual Redundant
1+1 AC power (100 to 240V AC, 50/60 Hz)
1+1 DC 24V power
1+1 DC -48V power
1+1 DC 110/125V DC power
AC or DC
Antenna Specifications:
Antenna Type: Active
Amplifier Gain: Typically 27dB to 40dB (GPS L1 band)
Operating temperature: -40°C to +85°C
Reverse Polarity Protection
Lightening Protection: According to EN61000-4-5 Level 4.
Cable Type: LMR 400 or equivalent with N connector
LMR400 Cable Length - 30, 50, 60 and 90 meters
Application Diagram
Application Diagram 1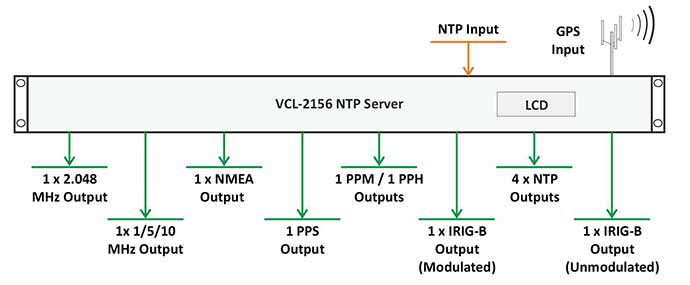 Application Diagram 2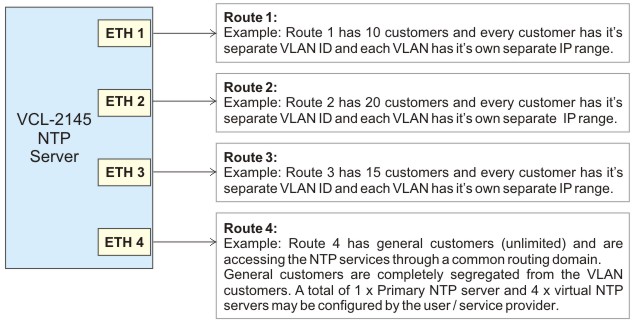 Assigning Multiple NTP Servers for high security applications and network segregation
VCL-2145 (this feature is also available with VCL-2156) provides 1 x Primary NTP Server in addition to 4 x user configurable Virtual NTP Servers. The NTP Servers may be configured to operate in up to 64 user configurable VLANs for security and network segregation.
---