STM-1 (Optical / Electrical) Add-Drop Multiplexer (with upto 16 E1 & 4 Ethernet) SDH Equipment
Orion Telecom Offers

Power Utility Solutions

Oil & Gas Networks Solutions

Railway & Metro Rail Solutions

PTP IEEE-1588v2

GPS Primary Reference Clock

Packet Optical Transport

Multiplexers

Teleprotection

SCADA, FOTE, OLTE

Digital Cross Connects

Echo Cancellers

IP/Ethernet over TDM

1+1 APS (Fail-Over) Solutions

Monitoring Groomer Solutions
STM-1 (Optical / Electrical) Add-Drop Multiplexer (with upto 16 E1 & 4 Ethernet) SDH Equipment
Description
Orion's offers STM-1 (Optical / Electrical), E1 and Ethernet Multi-Service SDH Transmission Unit is a modular platform unit with two 155.52Mbps optical / electrical interfaces, which may be used in a point-to-point, chain or ring application to provide an ultra-compact, cost effective and flexible multi-service platform.
Data Sheet (PDF)
Interface card options include the 8xE1 interface card (120 Ohms [RJ-45] and 75 Ohms [BNC]), 4x100BaseT Ethernet interface card (1 VCG, 4 Ports 1 Channel) and 4x100BaseT Ethernet interface card (4 VCG, 4 Ports 4 Channels) options along with Engineering Order Wire is available. The user removable / replaceable STM-1 Optical / Electrical interface option makes it easy to meet various and changing user requirements. Orion's STM-1, E1 and Ethernet over SDH Transmission Equipment provides full capability to cross-connect at E1 level between all tributaries
The equipment can be used as Terminal Multiplexer (TM) or an Add-Drop-Multiplexer (ADM) to build a point-to-point, ring and chain (add-drop) transmission network.

Features and Highlights
1U height, 19-Inch standard rack-mountable chassis
Service interfaces

2 x STM-1 optical interfaces, MSA compliant SFP (pluggable) optical module (LC connector) based design, which supports onsite optical port replacement
2 x STM-1 electrical interfaces, SFP electrical module (Mini BNC connector) Optional
Maximum 16 E1 interfaces compliant with ITU-T G.703 (8 E1 interfaces per card)
120 Ohms E1 and 75 Ohms E1 interfaces options available
4 x 10/100BaseT Ethernet (electric) interface
10/100BaseT (FE) Ethernet Interface Options:

4 Ports, 4 Channels (4 VCG), and
4 Port 1 Channel (1 VCG)

1x GigE (Gigabit) Ethernet interface Options

Optical GigE (Gigabit) Ethernet interface,
Electrical 1000BaseT (Gigabit) Ethernet Interface

Provides complete diagnostics facilities to the user for monitoring optical ports and provide reading of optical transmit power, optical receive power, laser temperature, bias current in voltage alarms etc.
Performance Monitoring and Alarms - Error counts for B1, B2, B3
Performance Analysis - Error Seconds (ES), Several Error Seconds (SES), Unavailable seconds (UAS), Higher Order Virtual Container - Remote Error Indication (HOVC-REI), Higher Order Virtual Container - Pointer Justification Event (HOVC-PJE)
Management and Maintenance interfaces

10/100BaseT Ethernet management interface
RS232 serial management interface
Remote (Telnet) management interface
Windows XP based Graphical User Interface (GUI)
Windows 7 based Graphical User Interface (GUI)
SNMP V2 Monitoring
Engineering Order Wire (EOW) interface (RJ-11)
NMS (Network Management System) for monitoring multiple units from a single / central location

Timing mode

Synchronization with STM-1 line timing
Synchronization with timing from any of the E1 interfaces (1-16 E1 tributary interfaces)
External timing source option - 120 Ohms 2MBps (External Bits Clock)
External timing source - 120 Ohms 2MHz (External TTL Clock) - Factory Configurable
Internal Clock - ITU-T G.813 internal oscillator (Stratum 3)
The timing source can be auto-switched according to default or operator programmed settings

Ethernet Standards Conformity

Generic Framing Procedure GFP-F compliant with ITU-T G.7041
VCAT compliant with ITU-T G.707 and LCAS compliant with ITU-T G.7042
Ethernet flow control on WAN port and LAN port
Large buffer size upto 410,000 bytes
Maximum Frame length (MTU size):1536 bytes with 4 port 1 channel (1 VCG) Ethernet Card
Maximum Frame length (MTU size):2036 bytes with 4 port 4 channel (4 VCG) Ethernet Card
Auto MID/MID-X for Ethernet Interfaces
Support 802.1Q based VLAN tagging (4 ports 1 channel (1 VCG) Ethernet Card only)
Support Port based VLAN tagging (4 ports 1 channel (1 VCG) Ethernet Card only)
Performance Analysis

All Received Packets
All Transmitted Packets
Received Dropped Packets

Supports 1+1 Line Protection and Automatic Protection Switching (APS) with less than 50ms recovery
Supports point-to-point, ring and chain topology (4 VCG card only)
Local management and network-based management via a unified platform
Supports Remote Power Down Detection and Auto Laser Shutdown
Supports STM-1 and E1 loop-back for troubleshooting
850nm multi-Mode, 1310nm Single Mode and 1550nm Single Mode optical interface options offered
Ethernet mapping adopts GFP/VC-12 virtual concatenated technology; according with MSTP criterion
Provides Ethernet over SDH mapping through standard GFP and VC-12 virtual concatenation (VCAT)
Ethernet bandwidth can be adjusted by the user between 2MBps ~126 Mbps (VC-12 mapping)
Supports MAC Address list filtration, learning and updating function
Easy to operate
Redundant power supply card options AC+DC, DC+DC and AC+AC

110V AC - 240V AC (50/60 Hz) power options available
-48V DC power option available
-24V DC power option available

Power consumption less than 17W.
Alarm and Indicator Monitoring
Power Indicator
Current Status (integrity and activity) Indicator
Urgent Alarm Indicator
Minor Alarm Indicator
Optical Signal Loss Alarm Indicator
Remote Device Power-down Indicator
Ethernet Card Status Indicator
General Alarm Indicator for Ethernet Card (including Link-down of Ethernet Port)
Auto Laser Shutdown (ALS) Indicator
Engineering Order-Wire (EOW) Indicator
Ethernet Link Indicator
Ethernet Speed Indicator
E1 Card Status Indicator
Dry contact via 9-pin, D-type male connector
Buzzer Alarm
SNMP Diagnostic and Monitoring
Application Diagram
Application # 1: Point to point Network Application Diagram
Application # 2: Chain Network Application Diagram

Application # 3: Ring Network Application Diagram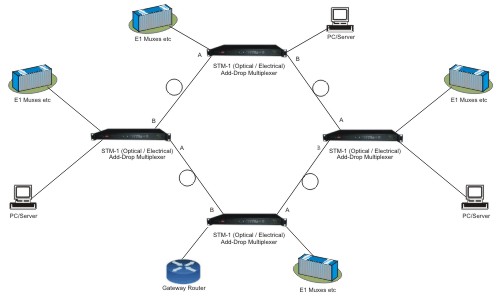 ---
Related Links: